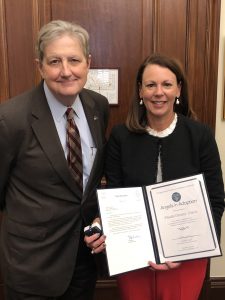 Baton Rouge La.— Catholic Charities Clinical Director, Paula C. Davis,  LCSW was nominated by Senator John Kennedy to receive a 2019 Congressional Coalition Institute (CCAI) Angels in Adoption® Award. Senator Kennedy presented the award in his office on Thursday, November 14, 2019.
The Angels in Adoption program honors individuals, couples, families, and organizations nationwide that have made an extraordinary contribution on behalf of children in need of permanency. Since the program's inception in 1999, more than 2,600 awardees from all 50 states, the District of Columbia and Puerto Rico have been recognized for their commitment to the adoption and foster care community. Learn more about the Angels in Adoption program at www.ccainstitute.org/programs/view/angels-in-adoption-gala.
Paula Davis, LCSW, has more than 20 years of domestic and international adoption experience working with birth parents, adoptive parents and adopted people. She also provides counseling and support for families post-adoption, including working with those who are initiating a search. Paula has dedicated her career to serving children who have special needs and their families. She has directly helped to place over 100 children in loving homes and has indirectly helped to place many more. In preparing families and walking with them throughout the lifelong journey of adoption, Paula continues to make a lasting impact on the lives of many. Paula received her MSW from Louisiana State University and has been an adjunct instructor at LSU School of Social Work since 2000. In addition, Paula has helped form hundreds of social work students and social workers by her work at LSU and by supervising new social workers. She also serves on the Louisiana Law Institute's Children's Code Committee helping to draft legislation that ensures that adoptions are more ethical and transparent in the State of Louisiana.
"On behalf of the Catholic Charities of the Diocese of Baton Rouge Board, staff and partners, I applaud Paula for her unwavering commitment to and support of the adoption and foster care community," said David Aguillard, CCDBR Executive Director. "Her recognition as an Angel in Adoption is well deserved."
Catholic Charities of the Diocese of Baton Rouge, a non-profit organization, has been providing adoption services for more than 50 years with the mission of strengthening, educating, and empowering children, families, and individuals through adoption, parental engagement, and pregnancy services. Since its inception, Catholic Charities has provided services to more than 9,000 pregnant women, adoptive families and adopted people. Please visit adoptccdiobr.org to learn more.