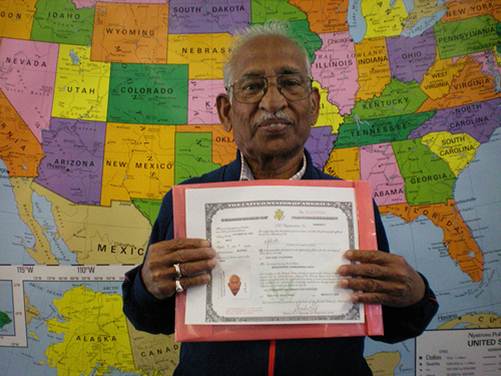 We provide legal representation and education that empower the immigrant community, its allies, and those who seek family unification, justice, and protection from harm.
Legal Representation: Immigration Legal Services (ILS) provides low-cost legal immigration services to foreign-born individuals and their families who want to obtain, extend, or retain lawful immigration status or who are seeking citizenship in the United States. We charge a $50 consultation fee and need copies of all immigration-related documents, prior filings, or personal documents that may relate to your case. Call 225-376-6849 to make an appointment.
Know Your Rights Workshops: Everyone has the right to due process, but not everyone knows what those rights are or how to stand up for their rights when under pressure from local law enforcement or immigration officers. We offer informational sessions at least twice a month to educate the public on their rights and individual consultation sessions with an attorney or accredited representative. To determine the location of upcoming "Know Your Rights" workshop, or to request one at your local church or school, please contact our office at 225-376-6849.
Annual Citizenship Day Workshop: Each September in conjunction with Constitution Day and Citizenship Day, our office provides a one-day workshop offering free naturalization application assistance to qualified green cardholders. Participants learn about the naturalization process, receive an eligibility review with a trained immigration law professional, and receive assistance completing the required forms. Call 225-376-6849 to get more information.
Legal Orientation Program: Catholic Charities of the Diocese of Baton Rouge is the only Louisiana agency to go into the LaSalle and Pine Prairie Immigration Detention Centers to provide immigration court-related "Know Your Rights" workshops to detained immigrants and to meet with them one-on-one to offer guidance and legal education materials. If you have any family member or friends who are currently being detained in the LaSalle or Pine Prairie facilities, please contact our office at 225-376-6849 so that we can put them on the list to attend a workshop and speak to one of our attorneys or accredited representatives.
---
Get Involved in Our Work!
Click here to make a donation.
Donate to our Law Library: Monetary donations for book/materials are always welcome OR as you plan your annual law library updates, please consider donating the outgoing/older editions to us.
Donate to our Pro-Bono Fund to support our most our work with vulnerable clients, including unaccompanied minors, victims of domestic violence, asylees/refugees, and detainees.
Put your language skills to workand volunteer to help with third language translations or interpretation at consultations or USCIS interviews.
Attorneys or Law Students interested in human rights, removal defense, serving refugees and asylees seeking safe haven in the United States, can volunteer to take on pro-bono or low-bono referral cases.
Generous support for the ILS Program is provided by:
Louisiana Bar Foundation
Vera Institute of Justice
Foundation For Louisiana Kellogg Foundation
ILS is a member organization of:
CLINIC, the Catholic Legal Immigration Network, Inc.
AILA: American Immigration Lawyers Association
Este contenido también está disponible en español.