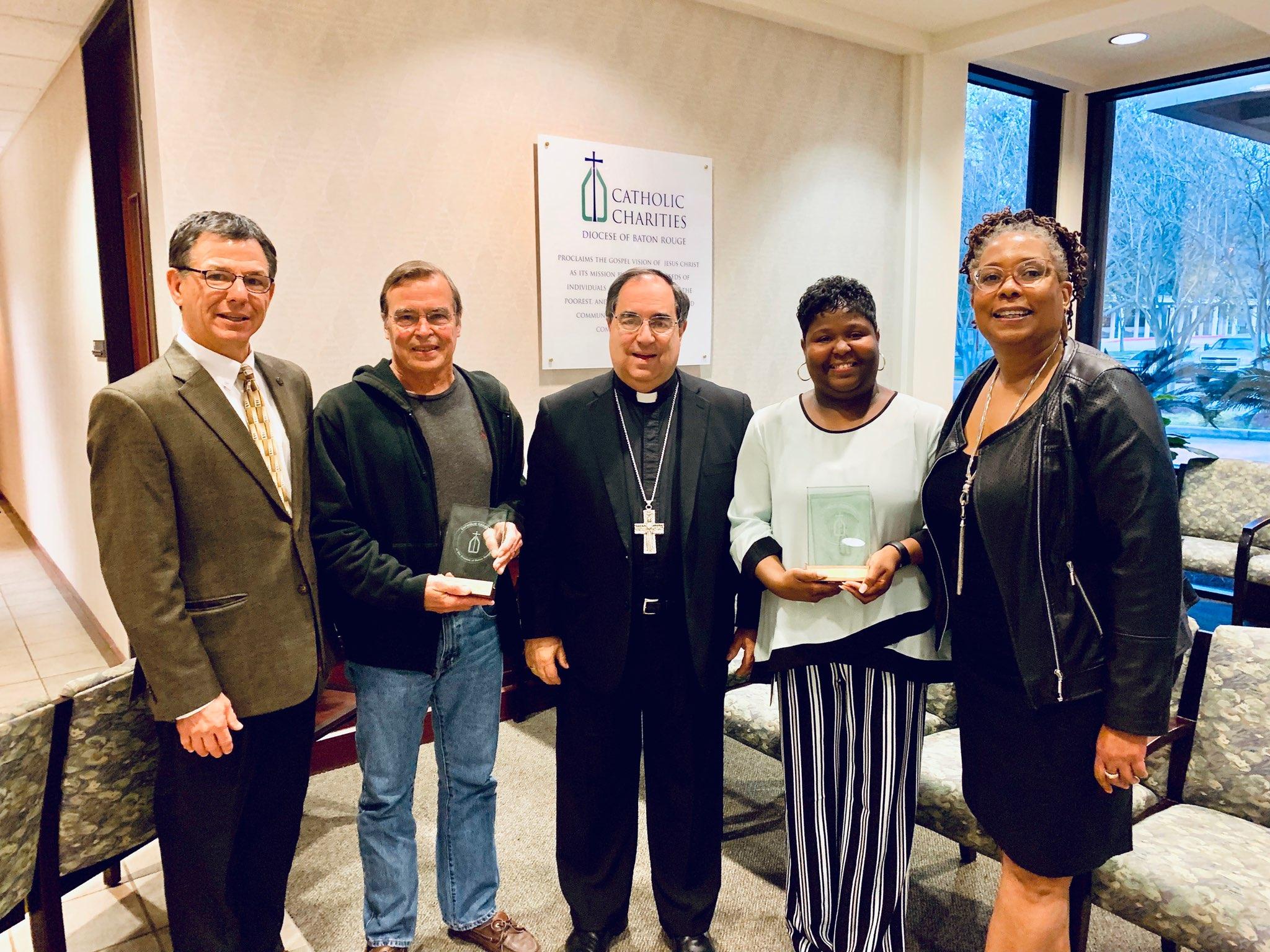 On February 13, 2019, Catholic Charities Diocese of Baton Rouge staff, volunteers and board members celebrated the agency's accomplishments of the past year, highlighted plans for the future and announced two awards. Gerri Hobdy, CCDBR Board Chair, presided over the event, and Bishop Michael Duca opened with a prayer. The agency's annual report can be found here. 
Mr. Jeff Smith was awarded the 2019 David Hamilton Volunteer of the Year award. He's been volunteering with the Community Comes Together for Christmas for 7 years. He knows the ins and outs of the program often better than staff. One of the 11 nominators said "We often forget he is a volunteer because he knows just about everything about the program." He's usually the first volunteer to arrive and the last to leave. He's gotten so good at what he does that he even trains other volunteers. This program is an Amazonian feat. Over the course of 6 days—one of which is his wife's birthday—Jeff helps receive gifts from donors, sort them into bundles, and load the gifts into the vehicles of 400 families. Often in the freezing rain or scorching heat. He works tirelessly with a smile, kind spirit, and as a nominator said, "He embodies the Catholic Charities mission and values."
Ms. Ashley Bennett is this year's recipient of the Gene Domingue Co-worker of the Year Award. In honoring past honorees, we say they are a blessing of the storm, meaning Katrina/Rita/Gustav/Ike/Isaac. This time, we're honoring Ashley who came on board as a blessing of The Great Flood of 2016. Ashley started working for Catholic Charities Disaster Case Management program as an administrative assistant, and after 2 years, moved into the role of Foster Grandparent Coordinator—a program that was just renewed for another 3 years. All 6 of the coworker nominators used the words "awesome," "humble," and "compassionate" to describe her. Her clients adore her because of her kind heart and infectious smile.