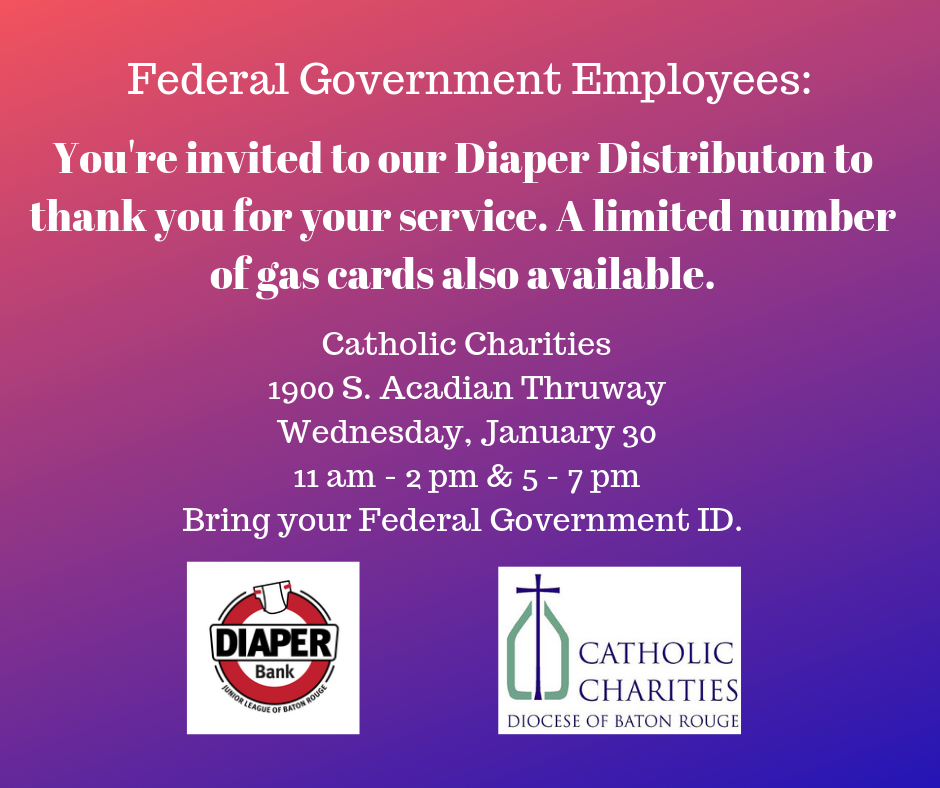 Baton Rouge, LA—As a "Thank You" for their public service, on Wednesday, January 30, 2019, Junior League of Baton Rouge and Catholic Charities of Baton Rouge are distributing baby supplies and a limited number of gas cards to people who work for the Federal Government.
Help us thank them. Donate now. 
The distribution will take place from 11:00 am – 2:00 pm and 5:00 – 7:00 pm at Catholic Charities offices, 1900 S. Acadian Thruway, Baton Rouge. Workers must present their federal government employee identification to receive the donations.
The two organizations began planning the distribution last week but decided to move forward with even though the government shutdown ended on Friday in recognition of the service of public employees and to assist with the hardship incurred by going without a paycheck for over 30 days
"The stories we've heard about families not able to afford basic necessities are heartbreaking," said Danielle Satawa, Diaper Bank chair for the Junior League of Baton Rouge. "Even though the furloughs have ended, we felt this was an opportunity to thank them for their service to our Country and help them recover."
Catholic Charities and Junior League have a long history of helping families with young children in need. Each year, Catholic Charities distributes diapers and other baby supplies to over 200 families—most donated by Junior League of Baton Rouge.
"Families with young children are always hit hardest when a disaster like this happens," said David Aguillard, Executive Director of Catholic Charities. "We're thankful to have a partner like the Junior League to help fill gaps like this in service.  We also know that cash will be short for these public servants, and so we'll have gas cards for the first 50 workers."
The Diaper Bank at Catholic Charities will be closed on the distribution day to people who are not employed by the Federal Government. For immediate help, they should call the United Way 211 Info line or our offices at 225-336-8708.
XXXX
The Junior League of Baton Rouge is an organization of women committed to promoting voluntarism, developing the potential of women, and improving the community through the effective action and leadership of trained volunteers.
Catholic Charities of Baton Rouge traces its history back to the oldest Catholic Charities in the nation. It has existed as an integral part of the Diocese of Baton Rouge since the inception of the Diocese 50 years ago. Both the Diocese of Baton Rouge and Catholic Charities of Baton Rouge grew out of the Archdiocese of New Orleans, and its Catholic Charities agency was the first in the U.S., established in the 1805. The Baton Rouge agency serves those most in need with an array of comprehensive programs that include employment training, direct assistance, adoption, child-welfare services, and comprehensive supportive services for pregnant women, refugees, families in poverty, and ex-offenders. We are the area's leading disaster recovery agency.